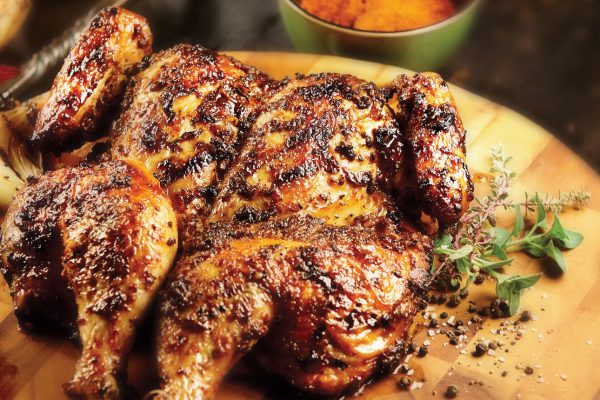 INGREDIENTS
2 kg Crysbro Chicken
1 large onion grated
Salt and black pepper to taste
1 tablespoon of lime juice
(For the tandoori mix)
2 tablespoons of dry roasted cumin powder
6 cloved of garlic peeled and blended
2 tablespoons of grated ginger
2 tablespoons of roasted coriander powder
2 tablespoons of tomato paste
2 tablespoons of brown sugar
2 tablespoons of lime juice
1 tablespoon red chillie powder
1 tablespoon sweet paprika powder
1 tablespoon vegetable oil
60 g plain yoghurt
DIRECTIONS
Position the chicken in a way that the back is facing upwards, and the drumsticks are pointed towards you. To butterfly the chicken cut all the way down one side of the backbone with a sharp knife and cut all the way down to the other side of the backbone to remove it completely. Turn over and insert skewers to retain the shape of the chicken.
Coat the whole chicken with grated Bombay Onion, lime juice, salt and pepper and drain away the excess juice in it.
Blend all the ingredients of the tandoori mix and rub ot on the chicken and coat evenly. Cover the chicken and refrigerate for 2 hours.
Pre-Heat a grill to level 4-5 and grill the chicken well on each side until slightly charred and then air fry it for 30-35 minutes till golden brown.
Serve the chicken on a platter!