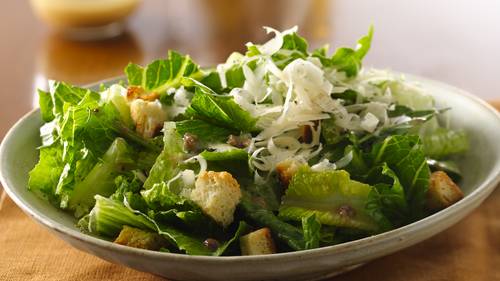 INGREDIENTS
For the Salad:
– Romaine lettuce (1 to 2 heads, washed and chopped)
– Croutons (homemade or store-bought)
– Grated Parmesan cheese
For the Dressing:
– 1/2 cup mayonnaise
– 2-3 garlic cloves (minced)
– 2 tablespoons Dijon mustard
– 2 tablespoons lemon juice
– 2-3 anchovy fillets (optional, for flavor)
– 1/2 cup grated Parmesan cheese
– Salt and black pepper to taste
– 1/4 cup olive oil
Optional Additions:
– Grilled chicken, shrimp, or other protein
– Hard-boiled eggs
– Cherry tomatoes
DIRECTIONS
1. First we should prepare the dressing and for that, in a bowl, whisk together the mayonnaise, minced garlic, Dijon mustard, lemon juice, and anchovy fillets (if using). Add the grated Parmesan cheese and whisk until well combined. Slowly drizzle in the olive oil while whisking to emulsify the dressing. Season with salt and black pepper to taste. Adjust the ingredients to achieve the desired flavor and consistency.
2. Now let's make the croutons. You can use store-bought croutons or make your own by cubing some stale bread. Toss the bread cubes with a bit of olive oil, salt, and your choice of seasonings (garlic powder, Italian herbs, etc.). Toast them in the oven at around 350°F (175°C) until they are crispy and golden brown.
3. In a large salad bowl, combine the chopped Romaine lettuce and croutons. Drizzle some of the Caesar dressing over the lettuce and toss gently to coat. Add more dressing as needed, but don't overdress the salad.
4. If desired, you can add grilled chicken, shrimp, hard-boiled eggs, cherry tomatoes, or any other ingredients you prefer.
5. Sprinkle the salad with additional grated Parmesan cheese. You can also add a few more cracked black pepper if you like.
6. Enjoy!