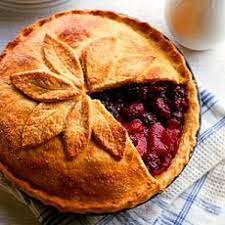 INGREDIENTS
(For the Pie Crust)
– 2 ½ cups all-purpose flour
– 1 cup unsalted butter, cold and cut into small cubes
– 1 teaspoon salt
– 1 teaspoon sugar
– 6-8 tablespoons ice water
(For the Blackberry Filling)
– 6 cups fresh blackberries
– ¾ cup granulated sugar (adjust based on sweetness of berries)
– ¼ cup cornstarch
– 1 tablespoon lemon juice
– 1 teaspoon lemon zest
– ½ teaspoon vanilla extract
(Egg Wash)
– 1 egg
– 1 tablespoon milk or water
DIRECTIONS
1.Let's make the pie crust first. In a large mixing bowl, combine the flour, salt, and sugar.
2. Add the cold butter cubes to the flour mixture. Use a pastry cutter or your fingers to work the butter into the flour until the mixture resembles coarse crumbs.
3. Gradually add ice water, 1 tablespoon at a time, and mix with a fork until the dough starts to come together. You want it to be moist enough to hold together but not overly wet.
4. Divide the dough into two equal portions, shape each portion into a disc, and wrap them in plastic wrap. Refrigerate for at least 1 hour or overnight.
5. And then for the filling, in a mixing bowl, gently toss together the blackberries, granulated sugar, cornstarch, lemon juice, lemon zest, and vanilla extract. Allow the mixture to sit for about 15-20 minutes to let the flavors combine.
6. Let's assemble and bake the pie starting by preheating your oven to 375°F (190°C).
7. Roll out one of the chilled pie crust discs on a floured surface to fit a 9-inch pie dish. Carefully transfer the crust to the pie dish and press it into the bottom and sides.
8. Pour the blackberry filling into the pie crust.
9. Roll out the second chilled pie crust disc and either place it over the filling as a full top crust or cut it into strips to create a lattice pattern.
10. If using a full top crust, trim the excess dough from the edges and crimp the edges to seal the pie.
11. If using a lattice pattern, weave the strips over the filling and crimp the edges to seal.
12. In a small bowl, whisk together the egg and milk (or water) to create an egg wash. Brush the egg wash over the top crust for a golden finish.
13. Optionally, sprinkle some granulated sugar over the top crust for extra sweetness and texture.
14. Place the pie on a baking sheet to catch any drips and bake in the preheated oven for about 45-55 minutes, or until the crust is golden brown and the filling is bubbly.
15. Once baked, remove the pie from the oven and let it cool on a wire rack before slicing and serving.