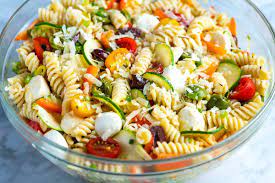 INGREDIENTS

– 8 ounces (about 225 grams) of pasta (common choices include fusilli, penne, rotini, or bowtie)
– 1 cup cherry tomatoes, halved
– 1 cup cucumber, diced
– 1/2 cup black olives, pitted and sliced
– 1/2 cup red onion, finely chopped
– 1/2 cup feta cheese or mozzarella cheese, cubed
– 1/4 cup fresh basil leaves, chopped (optional)
For the dressing:
– 1/4 cup olive oil
– 2 tablespoons red wine vinegar
– 1 teaspoon Dijon mustard
– 1 garlic clove, minced
– 1/2 teaspoon dried oregano
– Salt and pepper to taste
DIRECTIONS

1. Cook the pasta according to the package instructions until it's al dente. Drain and rinse it under cold water to stop the cooking process. Set aside.
2. In a large mixing bowl, combine the halved cherry tomatoes, diced cucumber, sliced black olives, chopped red onion, cheese cubes, and fresh basil (if using).
3. In a separate small bowl, whisk together the olive oil, red wine vinegar, Dijon mustard, minced garlic, dried oregano, salt, and pepper to make the dressing.
4. Add the cooked and cooled pasta to the bowl of vegetables and cheese.
5. Pour the dressing over the pasta and toss everything together until well coated.
6. Refrigerate the pasta salad for at least 30 minutes before serving to allow the flavors to meld.
7. Just before serving, give the salad another toss to ensure the dressing is evenly distributed.