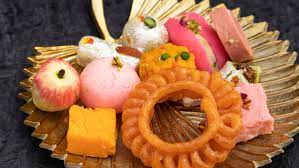 Sweets are a fundamental component of the social, religious, and cultural environment in India. The customary'mithais' are a need for any event. In actuality, each deity has a favorite sweet treat. For instance, Lord Shiva enjoys Thandai, Lord Ganesha enjoys modak, Hanuman enjoys laddoo, and the adorable young Lord Krishna enjoys peda. Some of these candies date back hundreds of years and come with some quite intriguing backstories.

The two words that best describe gulab jamun are soft and succulent. It is one of India's most well-known sweet foods, and special occasions and festivals are when people enjoy it the most. But did you realize that this delicious dessert has a unique past? Gulab Jamun isn't even Indian, to begin with. It originated from an Arabic dessert called Luqmat al-qaadhi, which translates to "The Judge's Bite," and came from Persian (modern-day Iran) cuisine. During the Mughal era, this delicacy gained popularity and was dubbed Gulab Jamun using the Persian terms gul (flower), ab (water), and jamun (an Indian fruit with a comparable form and size).

Rasgulla's original name is Khira Mohana, and it is made of chhena, or homemade cottage cheese, and is thought to have originated in Odisha. It is the favorite of the Gods themselves, according to the centuries-old mythology that attests to its age. According to legend, Lord Jagannath left without his spouse Lakshmi when he embarked on his Rath Yatra.

This sweet delicacy can be created at home, whether it be the Motichoor Laddoo, the Boondi Laddoo, or even the Besan Laddoo. Laddoo has a history of its own and is an essential component of celebrations and special events. You'll be astonished to learn that growing girls were traditionally given Laddoo to help regulate their hormones.

Did you know these before?