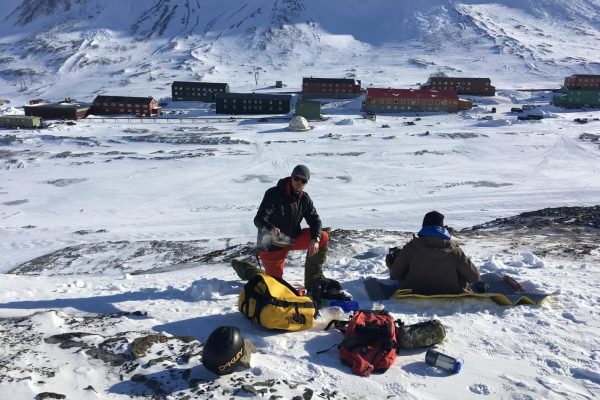 Creating a simple model is crucial when preparing food for cold weather. Due to the thick gloves, the cook might be really cold, and you'll want to crawl into the bottom of your sleeping bag, motivation will be low.

White gas is the recommended fuel to use. This lights easily in chilly weather and burns fairly cleanly.  Gasoline is filthy, kerosene is difficult to burn, and compressed fuels like butane or propane don't gasify in very cold temperatures.  There are numerous excellent white gas-powered backpacking stoves on the market.

Plan to use at least four times as much fuel as you would while camping in the summer because significantly more heat is needed to warm your food and all water needs to be thawed. By using insulated pots (insulation on the sides and lid, not the bottom), a lot of fuel can be saved.  Regular camping pots may be able to be fitted with some type of flame-resistant insulation.

Foods should be easy to prepare and provide the most calories possible. The best food is freeze-dried food.  Carry extra fats like butter and use them abundantly in the food.  It's a good idea to include treats like chocolate, sweets, dried fruit, and nuts.  As a result of the cold, the chocolate becomes extremely hard.

Sugary teas and hot chocolate are delectable delights as well as effective sources of energy and hydration. Trekkers in the Arctic should pack enough food for at least 5000 calories per person per day.

Did you know these facts before?