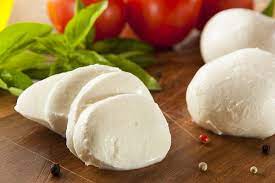 Fresh mozzarella is typically white, but depending on the animal's diet, it can turn pale yellow when seasoned. It is typically served the day after it is created due to its high moisture content, although when sold in vacuum-sealed packaging, it can be preserved in brine for up to a week or longer.

Although some shredded low-moisture mozzarella is offered with a shelf life of up to six months, low-moisture mozzarella can be stored in the refrigerator for up to a month. Most pizzas and a number of pasta dishes call for mozzarella, which is also used in Caprese salads with sliced tomatoes and basil.

Mozzarella is the diminutive version of mozza ("cut") or mozzare ("to cut off"), obtained from the way of labor, and is derived from the Southern Italian dialects spoken in Apulia, Calabria, Campania, Abruzzo, Molise, Basilicata, Lazio, and Marche.

The phrase first appears in print in 1570 and is described as "milk cream, fresh butter, ricotta cheese, fresh mozzarella and milk" in a cookbook written by Bartolomeo Scappi. It is also common to mention an earlier reference of Monsignor Alicandri when describing mozzarella, according to which Alicandri fed pilgrims a piece of bread topped with "mozza" in the 12th century at the Monastery of Saint Lorenzo in Capua, Campania.

Did you know these facts before?