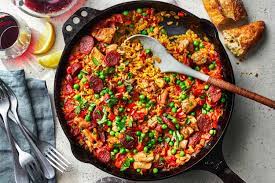 INGREDIENTS
1 tablespoon of olive oil
1 diced onion 
1 teaspoon each of spicy smoked paprika and dried thyme
300g of risotto or paella rice
3 tablespoons of dry white wine or sherry (optional)
400 g of chopped tomatoes and garlic
900 ml of chicken broth
400g of defrosted frozen seafood mixture
One lemon, juiced and sliced into wedges
handful of roughly chopped flat-leaf parsley
DIRECTIONS
A big wok or frying pan should be preheated with olive oil. Then add the onions after the oil heats for around 5 minutes and let the onion soften.

Stir for one minute after adding the paella rice, smoked paprika, thyme, and sherry, if using. Add the diced tomatoes and chicken stock when the liquid has evaporated.

For about 15 minutes, simmer the rice, stirring occasionally, until it is almost soft but still has some liquid surrounding it.

Add the seafood mixture after stirring, then shut the lid. Simmer for 5 minutes, or until the rice is soft and the seafood is well cooked. Lemon wedges should be served with the squeezed lemon juice, parsley, and garnish.

Serve Hot!