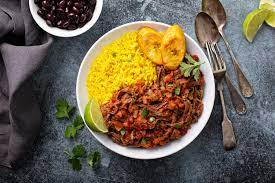 African and other Caribbean cuisines have influenced Cuban cuisine, which is mostly based on Spanish cuisine. With some Caribbean influence in spice and flavor, certain Cuban dishes incorporate spices and cooking methods from Spanish, African, and Taino cookery.

As a result, the many cultural elements are combined. There is also a negligible but notable Chinese impact, notably in the Havana region. Italian influence is also present. Cuba was a significant port for trade during the colonial era, and the Spanish forefathers of Cubans brought with them the regional culinary customs of Spain.

Spain is one of the major influences on Cuban cuisine as a result of Spain's colonization of the island. The Tano, a group of native Cubans, African immigrants from Africa who were brought to Cuba as slaves, and French colonists from Haiti are further culinary influences.

Cuba being an island, so seafood naturally has a significant influence on Cuban cuisine. Cuba's tropical climate, which yields fruits and root vegetables utilized in Cuban meals, is another aspect that influences Cuban food.

Something really spectacular about Cuban Cuisine is the sandwich Cubano or in other words the Cuban Sandwich.

In Tampa, Genoa salami is customarily layered in with the other meats, possibly as a result of the influence of Italian immigrants who lived side by side with Cubans and Spaniards in Ybor City. Tomatoes and lettuce are available additions in many restaurants, but these are considered by traditionalists as being a detriment to the sandwich.

Did you know these facts before?