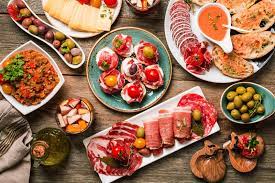 Spanish cooking methods and customs are what makes up Spanish cuisine. It exhibits significant regional diversity, with significant variations in the customs from each region of the nation.

Spanish cuisine makes extensive use of olive oil, which Spain produces in the biggest quantities in the world.

The colonization of the Greeks and the Phoenicians, who brought about the cultivation of olive oil, appears to be what caused the vines to spread around the Mediterranean. The world's largest producer of olive oil is Spain.

It serves as the foundation for numerous vegetable sauces, or sofritos in Spanish. The herbs parsley, oregano, rosemary, and thyme are most frequently utilized. Garlic is frequently used in Spanish cuisine, according to reports. Spanish cuisine makes extensive use of chicken as well. Regular seafood and fish consumption is also common. Snacks and appetizers called tapas and pinchos are frequently offered at taverns and cafes.

In the Americas, new culinary ingredients like tomatoes, potatoes, maize, bell peppers, spicy peppers, paprika, vanilla, and cocoa or chocolate first appeared after European settlers arrived in the region in 1492. The first time chocolate was sweetened to lessen its inherent bitterness was in Spain. Other ingredients, including rice, grapes, olives, and a variety of cereals, also made their way to the Americas. The Columbian exchange between the rest of Europe and the New World was facilitated by Spain.

Without the Columbian exchange, many traditional Spanish recipes, including tortilla de patata (an omelette prepared with potatoes), would not be feasible. Tomatoes are used in the preparation of gazpacho, salmorejo, and pan con tomate, and they were brought from the New World to the Old World.

Did you know these facts before?