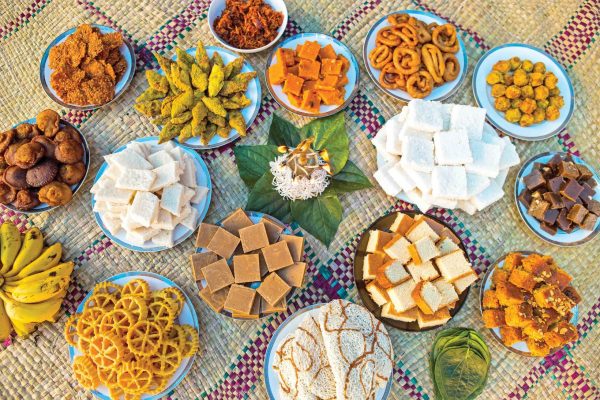 The Sinhala and Tamil New Year is a ceremonial time period among the Sri Lankan folks and it is a time period filled with entertaining awurudu games and amazing traditions but amidst all what makes the season more exciting is the mouthwatering taste of the special awurudu sweetmeats.

Since early days being a country with an enriched history and culture Sri Lanka had the prestige of owning this indigenous taste and techniques of preparing these seasonal sweetmeats.

Let's check some of them out one by one.

Athirasa: Athirasa is a delicacy made with rice flour, jaggery, treacle, and a dash of cardamom powder. The preparation is simple because all you need to do is combine flour and jaggery to make a sticky dough, flatten it into little circles, and deep fry. Athirasa is a delicious sweet dessert, as suggested by its name.

Konda Kavum: This is a signature Awurudu sweetmeat loved by everyone and in villages still, the entire family gets together to prepare this with their elders and relations. Red rice can be utilized to make the batter because it provides kavum a rich, brown color. The rice needs to be finely ground into flour. Rice flour, sugar, kithul treacle, coconut milk, salt, and fennel seeds are all included in the batter. A pan with oil should be hot before adding a ladle of batter and frying it till golden brown and preparing the top part using an ekel.

Aluwa: Aluwa is a sweetmeat that just melts in your mouth and is prepared using rice flour and sometimes according to the preference of taste people use treacle and jaggery as well. The treacle is brought to boiling point before the rice flour is first roasted over medium heat. Next, a dash of cardamom and the roasted rice flour are added. The combination may also include a few cashews. It is cut into diamond-shaped pieces after drying and being left to dry.

Dodol: This is an extremely delicious delicacy that people love to taste during the Awurudu season and its prepared using jaggery and treacle and this comparatively takes a longer time for the preparation. Over a medium heat, the mixture is continuously stirred in a big pot for about an hour. Oil separation begins as soon as the mixture begins to thicken. Slice into pieces after separating the oil and allowing it to cool.

Pani Walalu: Pani walalu is a delight for those who enjoy sweets and is covered in thick layers of honey. These are fried coils that were battered with white undu seeds, white raw rice, coconut milk, a little salt, and sugar treacle. This is practically a delicious sugar rush to anyone who craves sweets.

Let's enjoy this awurudu season with the sweetness of sweetmeats!