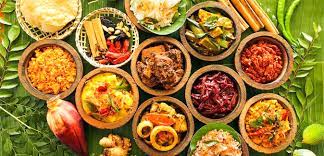 The distinct mixes of herbs, spices, fish, vegetables, rices, and fruits used in Sri Lankan cuisine are well known.

Many varieties of rice and the plant known as the coconut, which is found all over the nation, are important components of the cuisine. The cuisine also emphasizes seafood, whether it be fresh fish or fish that has been preserved. Sri Lankan cuisine has been influenced by the indigenous traditions of the nation's ethnic groupings as well as new foods and cultural influences brought by contact with international traders who used the country as a center on the ancient oceanic silk path.

Cinnamon was once the national crop of Sri Lanka. In order to highlight its Sri Lankan origins, the botanical name of the actual cinnamon tree, or Cinnamomum verum, was previously changed to Cinnamomum zeylanicum. Compared to Cinnamomum cassia, which is more popular in some other South East Asian cuisines but is less widespread in Sri Lanka, this spice is more extensively used and has a more delicate, sweet flavor.

When compared to nearby cuisines, Sri Lankan cuisine stands out for its distinctive spice blends, which heavily feature Sri Lankan cinnamon and black pepper, as well as its use of ingredients like maldivian fish, goraka (garcinia cambogia), pandan leaf, lemongrass, and jaggery made from kithul palm syrup.

Seafood is a staple of the regional cuisine in locations close to the island's coasts. South Indian cuisine and Tamil cuisine are very similar, particularly in Jaffna. The native fruits and vegetables found on the hillsides serve as the basis for Kandyan Sinhalese cuisine.

Did you know these facts before?