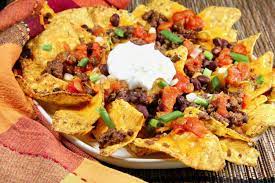 INGREDIENTS
FOR THE NACHOS
Extra-virgin olive oil, 1 tablespoon
1 big, chopped onion
1 pound of ground beef
2 minced garlic cloves
Taco seasoning, 1 tbsp.
Halal salt
1 can of refried beans (15 oz.)
1/4 cup of water
1 substantial bag of tortilla chips
2 cups of grated cheddar
Monterey jack that has been shredded
1 (15-oz.) can of drained black beans
Pickled jalapenos, half a cup
FOR THE TOPPING
2 chopped avocados and 1 big tomato
1/4 cup of green onions, thinly sliced
fresh cilantro leaves, 1/4 cup (optional)
Use sour cream to drizzle
Use hot sauce sparingly.
DIRECTIONS
Foil-line a sizable baking sheet and preheat the oven to 425 degrees. Heat oil in a big skillet over medium heat. Once the onion is tender, add the ground beef and simmer for an additional 6 minutes, or until the beef is no longer pink. Remove fat.

Season with salt and then add the garlic and taco spice. Sauté for a further 5 minutes, or until the meat is nicely browned and somewhat crispy. Stir together the refried beans and water in the skillet.

Add half of the tortilla chips, followed by half of the beef-bean mixture, cheese, black beans, and pickled jalapenos. recur one more time.

Bake for 15 minutes, or until cheese is melted.

Add tomato, avocado, green onions, and cilantro as a garnish. Serve right away after adding sour cream and spicy sauce.