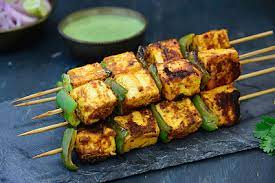 INGREDIENTS
A 300 g of paneer
200 grams yogurt
1/2 teaspoon of chili powder
Ginger-garlic paste, one tablespoon
1/2 teaspoon of turmeric powder
1 teaspoon cumin, ground
Ground coriander, 1 teaspoon
1/2 tsp garam masala
Amchur powder, 1 teaspoon
chaat masala, 1 teaspoon
1/8 teaspoon of powdered black pepper (optional)
Ajwain seeds, 1 teaspoon
1 tablespoon oil, salt
1/2 tbsp of butter or ghee
1/2 lime
DIRECTIONS
Pour the yoghurt into a wire strainer that has been lined with muslin cloth to start the meal. Knot the muslin's ends together, and then let it hanging over a basin for 30 minutes.

Slice the paneer into 2 cm cubes, season with salt and red pepper flakes, and place in a bowl. For 30 minutes, soak the bamboo skewers in water.

In a big bowl, combine the hanging curd and stir until it's smooth. Add the oil, ginger-garlic paste, and all the spice powders to the bowl and whisk well to combine all the ingredients.

Add the paneer to the marinade, gently combine to combine, and marinate for 30 minutes at room temperature.

Set the grill to its highest setting, or if you have a tandoor, use it.

Spray or brush some melted butter or ghee on a baking sheet that has been lined with parchment paper. Place the paneer on the baking sheet after threading it onto skewers. Grill for 2 minutes, then gently turn the skewers over and cook for an additional 2 minutes, or until the edges are lightly browned.

Place the skewers on a serving platter, top with lime juice, and serve right away.