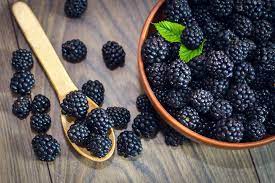 Numerous plants of the Rubus genus of the Rosaceae family produce the edible fruit known as the blackberry. Around 375 different species of blackberries can be found all over the world.

Ancient cultures saw of blackberries as a wild plant, and there aren't many historical examples of blackberry plants being used in backyard cultures.

The Romans produced a tea from the leaves of the blackberry shrub to treat various ailments, while the Greeks employed the berry as a treatment for gout.

The development of the first modern blackberry variety was mostly carried out in the US, starting with Judge Logan of California's release and presentation of the Loganberry in 1880.

The fruit, which is often black, is not a berry in the traditional sense of the word. It is referred to as an aggregation fruit in botany since it is made up of tiny drupelets.

Blackberries are a superb source of vitamin A, vitamin B1, vitamin B2, vitamin B3, vitamin B6, folate, vitamin C, vitamin E, and vitamin K. They are hailed as a "superfood." Blackberries are rich in calcium, iron, magnesium, phosphorus, potassium, and zinc, among other minerals. They don't contain any harmful cholesterol and are a good source of important dietary fiber and amino acids.

Better digestive health, a stronger immune system, good heart function, cancer prevention, and relief from endothelial dysfunction are just a few of the health advantages of blackberries. Blackberry has cognitive advantages and helps with regular blood coagulation, weight control, maintaining strong bones, skin care, improved vision, and memory enhancement. Due to its outstanding range of nutrients, it may also be a useful diet during pregnancy.

Aren't these facts fascinating?