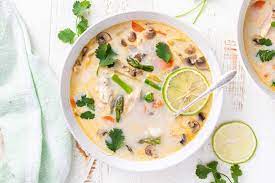 INGREDIENTS
2 teaspoons red Thai curry paste 
1 onion thinly sliced
4 cups chicken broth 
2 teaspoons red Thai curry paste 4 cups chicken broth
4 cups canned full-fat coconut cream unsweetened or full-fat unsweetened coconut milk
1 tablespoon coconut oil 
2 cloves chopped garlic 
1 half of a red jalapeno pepper; or 1-3 Thai chiles, halved 3 14-inch slices
3 1/4 inch slices of ginger 
1 lemongrass stalk pounded with the side of a knife and cut into 2-inch long pieces
2 medium chicken breasts cut  into bite-sized chunks
8 ounces of thinly sliced white mushrooms 
1-2 tablespoons of coconut sugar
1 1⁄2 to 2 tablespoons of fish sauce + additional to taste; 
2-3 tablespoons of limejuice
fresh cilantro chopped
2-3 green onions sliced thin
DIRECTIONS
Heat the coconut oil in a medium pot over a medium flame. For five minutes, or until the onions are softened, add the onion, garlic, chillie,  ginger, lemongrass, and red curry paste. Stir continuously. Bring to a boil after adding chicken broth. 30 minutes of simmering at low heat with the lid off.

Remove and discard the aromatics, which include the garlic, onions, lemongrass, and ginger. Add chicken breast (or tofu or shrimp if you are vegetarian), mushrooms, and coconut cream or milk. Add fish sauce, coconut aminos (or coconut sugar), and lime juice along with additional amounts of each flavoring to taste and simmer until chicken breast pieces are barely cooked through.

Cook for 2 minutes, then ladle into serving dishes and garnish with fresh cilantro and green onion slices.

Serve Hot and fresh!