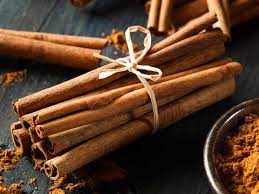 Cinnamon is obtained from the branches of trees in the family Cinnamomum. Southeast Asia, South America, and the Caribbean are its natural habitats. Since 2000 BC, people have utilized cinnamon, which was highly respected in ancient Egypt. It was used by physicians in the Middle Ages to treat ailments like coughing, arthritis, and sore throats.

After black pepper, it is currently the second most popular spice in both Europe and the United States.Cinnamon is a spice that can be purchased whole, as pieces of bark, or in powder form. Additionally, they can take vitamins and cinnamon essential oil.

Cinnamon oil is helpful against a kind of Candida that affects the bloodstream, according to a laboratory study from 2016. Its antibacterial qualities might be to blame for this.If additional investigation supports these results, cinnamon oil might be useful in treating this particular infection.

Researchers claim that a substance found in cinnamon bark called CEppt has qualities that could head off symptoms in their tracks.This extract, but not necessarily whole cinnamon, may be helpful in creating Alzheimer's treatments if additional study supports its efficacy.

Researchers came to the conclusion in 2011 that cinnamon and other "antioxidant spices" may lessen the body's adverse reaction to consuming high-fat meals. Six people ate foods that had 14 g of a spice mixture. Blood tests revealed a 13% increase in antioxidant activity, a 21% decrease in insulin sensitivity, and a 31% decrease in triglycerides.

Several ingredients in cinnamon may have positive effects on the heart. In a study on animals, cinnemaldehyde, for instance, reduced blood pressure. In a study from 2014, rats who underwent long-term treatment with cinnamon plus aerobic exercise had greater heart function than those who did not.

Did you know these facts before?