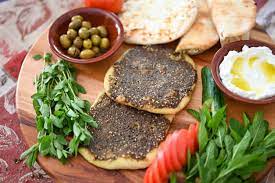 INGREDIENTS
For the Dough
1 cup of warm water
1/2 tsp sugar
2 14 teaspoons active dry yeast (one package active dry yeast)
3 cups all-purpose unbleached flour, plus additional for dusting
1/tsp. salt
For the Za'atar topping
2 tbsp. Private Reserve extra virgin olive oil
Quality Za'atar spice, 7 to 8 tablespoons, and 1/2 cup Private Reserve extra virgin olive oil
Serve with
garden-fresh vegetables (tomato, cucumbers, radish)
Olives
homemade feta cheese or labneh (omit if vegan).
DIRECTIONS
Combine water, sugar, and yeast in a small basin. Foaming should be left for 10 minutes.

To create the dough Mix the flour, salt, and olive oil in a sizable bowl. Use your hands to stir the mixture. Create a well in the center and then pour the yeast and water mixture inside and until soft dough develops, stir.

When the dough is elastic, smooth, and no longer sticky, turn it out onto a surface that has been lightly dusted with flour and knead it for 10 minutes (as you knead, if dough is too sticky for you, you can sprinkle just a tiny bit of flour to help it).

Create a dough ball and place it in a mixing basin that has been lightly greased. Place in a warm location and cover with a moist cloth (inside a warmed but turned-off oven is a good place). Leave for an hour and a half to rise.

Put down the dough. Eight little balls will develop after a brief kneading. Place on a lightly dusted surface, cover once more, and allow to rise for an additional 30 minutes.

Make the za'atar garnish. Combine the za'atar spice and olive oil in a bowl while the dough is rising. Set the oven to 400 degrees Fahrenheit. As the oven is heating, place a sizable baking sheet inside.

Set the heated baking sheet nearby and lightly oil it. Make little discs out of the dough that are 5 inches in diameter. Create indentations in the discs with your finger tips, then place 1 tablespoon of the za'atar topping in the center of each one, leaving a narrow border all around. Discs should be arranged on an oiled baking sheet (use two sheets if needed, do not crowd the manaqish)

The dough should be lightly browned on the bottom and edges after 7 to 8 minutes of baking at 400 degrees F (the za'atar topping will still be liquid at this time). After about five minutes of cooling, remove from fire; the topping will have dried and settled into the dough.

Serve heated or at room temperature za'atar manaqish with a variety of vegetables, olives, feta cheese, or homemade labneh.