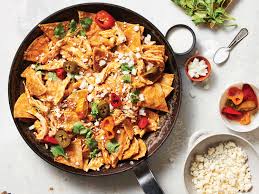 INGREDIENTS
Vegetable oil
Green enchilada sauce in a 15-ounce can
Quartered maize tortillas, each measuring five inches
2 huge eggs
Monterey Jack cheese, grated into a half cup
2 tablespoons of the salsa you prefer
Salted butter, two teaspoons
Freshly ground black pepper and Kosher salt
DIRECTIONS
In a cast-iron skillet, heat 1 inch of vegetable oil over medium heat until a candy/frying thermometer reads 350 degrees F. (If you don't have a thermometer, gently dunk a tortilla wedge corner into the oil. You are prepared to cook if something sizzles.)

Drop the tortilla quarters into the hot oil with caution and fry, rotating them with tongs halfway through, for 1 to 1 1/2 minutes, or until crisp but not quite browned. Take out the tortilla quarters and place them on a dish covered with paper towels to drain.

In a small pan over medium-high heat, warm the enchilada sauce until it is hot. Fry the eggs while it is heating up. In a small skillet over medium heat, melt the butter. Crack the eggs into the skillet and cook for one to two minutes, or until the edges are lovely and crispy. Add salt and pepper to taste.

Build your chilaquiles while the eggs are frying. Lay out half of the fried tortillas in a layer in a 1-quart dish that is not too deep. Add half of the cheese to them. To cover most of the chips, top the tortillas and cheese with heated enchilada sauce. Spread out the remaining chips evenly over the platter. Add extra sauce and the rest of the cheese on top. You can add whatever you like in this section. Depending on your tastes, you might have some leftover enchilada sauce.

Add your choice of salsa and fried eggs on top. Enjoy while it's still warm.