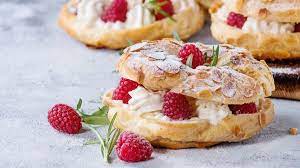 Some of the most well-known desserts and pastries in the world, such as crème brûlée, macarons, madeleines, and éclairs, originate in France. More than 300 stores exclusively selling chocolate may be found in Paris alone. You might not be familiar with some of the other candies you can bring back from France, though. Here are a handful to keep in mind the next time you visit France.

Mendiants: These tiny circular cakes have nuts and dried fruit on top, most frequently candied orange peel, hazelnuts, and raisins. A lot of people give them as Christmas gifts.

Galettes des Rois: These spherical treats made of puff pastry and frangipane (almond cream). According to custom, a prize is concealed within one of the galettes, and the person who finds the piece containing the prize is crowned king for the day.

You may discover Langues de Chat French Cookies at any French café or bakery. These little cat tongue-shaped treats are created with flour, sugar, and egg white, then baked until crisp.

The macaroon is the most often consumed sweet in France despite there being many other varieties. Almonds and chocolate powder are ingredients in macaroons. Typically circular in shape, macaroons are also quite soft. It is widely available around Paris and is highly well-known in France.

The importance of cuisine, pastry, bread, and wine is prevalent in French culture. More than any other nation, the French spend a large portion of their income on food and beverages.

Did you know these facts before?