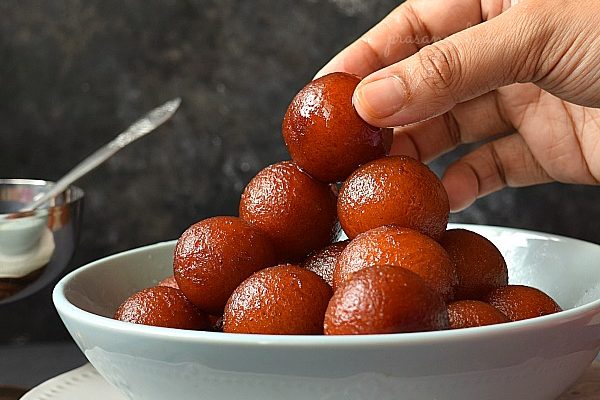 INGREDIENTS
For the syrup
4 green cardamom pods, lightly squashed with the side of a knife

few drops rosewater

600g of sugar (caster)

2 tsp chopped pistachios

¼ tsp strands of saffron soaked in 2 tbsp warm water for 1 hr
For the Gulab Jamun
40g flour (plain flour)

1 tbsp yoghurt

100g full-cream milk powder

squeeze of lemon juice

½ tsp of Baking powder

50g of Ghee softened unsalted butter plus 1kg ghee, for frying

Oil (Sunflower oil)

4-5 tbsp whole milk

6 green cardamom pods with seeds removed

1tsp of caster sugar
DIRECTIONS
In a saucepan, combine the cardamom, sugar, and 500ml water to produce the syrup. Keep the water from coming to a boil before the sugar has dissolved. Ten minutes into simmering, let cool.

Once you have a delicately flavored syrup, gradually add the rosewater, saffron, and a little of its soaking liquid. Place aside.

Step by step, include the rosewater, saffron, and a small amount of its soaking liquid until the syrup has a delicate flavor. Set aside

Pour the cardamom and sugar mixture into a mixing bowl after sifting the milk powder, flour, and baking powder. Use your fingertips to incorporate the 50g of ghee or butter into the mixture until it resembles coarse crumbs.

Making sure not to overwork the ingredients, combine the yogurt, lemon juice, and just enough milk to create a soft dough.

Shape little parts of the dough into 20g (3 cm) walnut-sized balls using a little sunflower oil to grease your hands. Make sure the dumplings are flawless and free from folds or cracks.

Bring the syrup back to a boil, then remove from the heat and cover with a lid.

When a little piece of dough is dropped in, the ghee should be heated to 130C or until the dough turns golden in 40 seconds. The balls should be deep-fried for 5-7 minutes while being moved about in batches over a medium heat. Using a slotted spoon, remove from the pot and drain on paper towels. Add them to the warm syrup and let them soak there for 2 to 3 hours, ideally overnight.
9.  When it's ready to eat, place the gulab jamun and syrup in a large saucepan and heat through. With the pistachios strewn over, serve immediately.