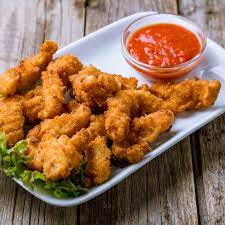 Chicken fingers are made from chicken meat that has been processed from the animal's pectoralis minor muscles. Under the breast meat, on either side of the breastbone, are these strips of white meat (pectoralis major). They can also be prepared from similarly shaped pieces of chicken meat, typically the breast, or occasionally solely from the meat's pulp.

In America, chicken fingers are a widely available food item. They acquired popularity in the mid-to-late 1980s as an alternate fast food choice to chicken nuggets, since they maintained more chicken meat. In order to keep the breading in place, chicken meat may be coated in spices, polyphosphate, and breadcrumbs during production. The product is then flash-fried and frozen before being sent for consumer, retail, and commercial usage.

Similar to how schnitzel is made, chicken meat is coated in a breading mixture and then deep-fried to create chicken fingers. Due to their ease, they are a very popular snack or main dish and have established themselves as a standard throughout the United States. In the United States, chicken fingers are a favorite fast-food snack.

In 1974, the Puritan Backroom in Manchester, New Hampshire, produced the first chicken tenders. Although the overall consensus supports the claim in Manchester, restaurants in Savannah, Georgia, and Baton Rouge, Louisiana, have disputed this assertion with later claims that chicken tenders were invented there.

Did you know these things about Chicken Fingers?