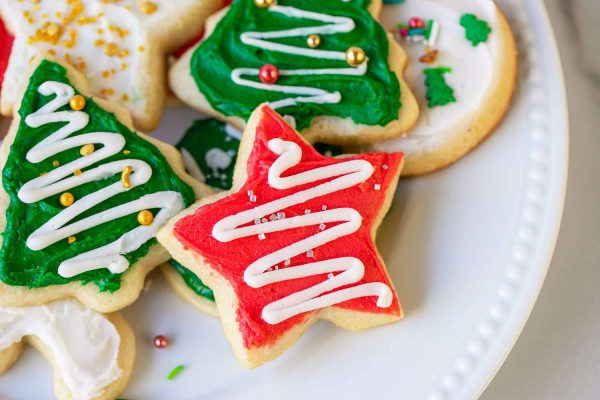 INGREDIENTS
225g/1 cup of unsalted butter
1 cup superfine sugar
1 ½ teaspoon of vanilla extract
1 large egg
3 cups of flour
¾ teaspoon of salt
¾ teaspoon of baking powder
Icing for cookies
DIRECTIONS
Pre heat the oven to 180°C/350°F (fan 160°C) before using. Use parchment paper to line two baking sheets.

In a big bowl, combine butter and sugar and beat until creamy (1 minute on speed 5)

Beat in the egg and vanilla after adding them.

Add salt, baking soda, and flour.

It will be clumpy when you first start combining, but keep going until the flour is thoroughly mixed in.

To prevent sticking, sprinkle flour beneath and over the dough as you roll it out to a thickness of 0.6cm / 1/4″ for thicker, softer cookies, or 0.3cm / 1/8″ for thinner, crispier cookies.

Shapes can be cut out with cookie cutters and then transferred to baking sheets that have been prepped using a knife or spatula. (Store any dough in the fridge that won't fit in the oven.)

The surface should be pale golden and the edges should just start to become light golden after 10 minutes of baking, switching trays halfway through (Note 2).

Give cookies time to finish cooling on the trays (they will finish cooking on the trays).

Frost the cookies with Icing using a preferable design.