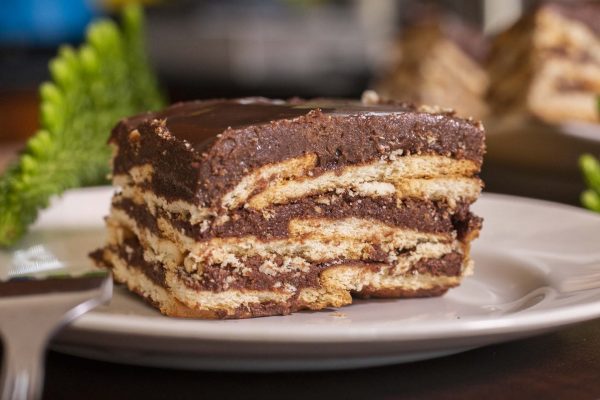 INGREDIENTS
200g Icing sugar
100g Margarine or butter
300g Marie biscuits
300 ml Hot milk
50g Chopped cashew nuts to decorate
1 1/2 tsp Cocoa powder
DIRECTIONS
The icing sugar should be sieved twice and placed in a bowl. Then add the margarine, coffee powder, and chocolate frosting to the same bowl.

Pour some hot milk onto a large plate and soak some of the biscuits in it. To keep the milk hot, heat or boil it repeatedly (100g first). When you notice the biscuits are getting bigger, take them out and place them in the pudding bowl's bottom. The biscuits should be arranged in a circle at the bottom of the container. Wait a minute or two (to remove the hotness of the biscuits).

Put on a thin coating of chocolate frosting. Make sure to also coat the bottom biscuit layer.

Then, using the remaining 200g of biscuits, soak them in hot milk and layer them thickly as in step two.

Then cover the top of the pudding bowl with the leftover chocolate frosting. Sprinkle the top with the chopped cashew nuts.

Enjoy the pudding once it has chilled for at least 30 minutes.