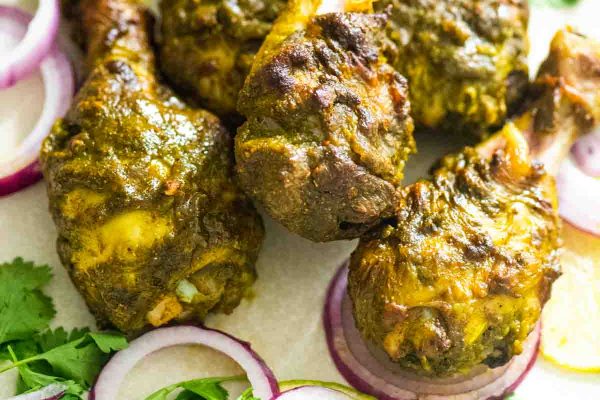 INGREDIENTS
5 Crysbro Chicken legs
1 1/2 teaspoons turmeric
2 teaspoons of coriander powder
2 teaspoons of ginger garlic paste
2 teaspoons of garam masala
2 teaspoons of chillie powder
2 teaspoons of fennel powder
1 half of lemon
1 cup gram flour
Cilantro leaves
1 cup yoghurt
Mint leaves
DIRECTIONS
To begin, lightly toast the gram flour on a nonstick pan. 4-5 minutes of heating and stirring with a spatula. Turn off the heat when you can smell the flour's nutty aroma.
Chicken legs should be placed in a mixing basin (drumsticks). To aid the leg pieces in better absorbing the marinade, score the chicken tangdi. Salt, lemon juice, ghee (if using), and spice
Blend the yogurt, ginger, garlic, mint leaves, and coriander leaves in a blender or food processor (or ginger garlic paste). Then, add the seasoned mixture to the mixing bowl with the chicken legs.
Incorporate the toasted gram flour (besan). Mix everything thoroughly. Keep the chicken legs with the marinade aside for an hour (or overnight).
190 C for the oven's preheating (370 F). On a baking sheet covered with foil, arrange the marinated chicken legs.
Cook the chicken legs on the grill for 30 to 35 minutes, rotating them once while cooking to ensure equal cooking. To give the chicken leg kabab a wonderful lustre or shine, you can also brush extra ghee on the chicken tangri.
Serve Hot!