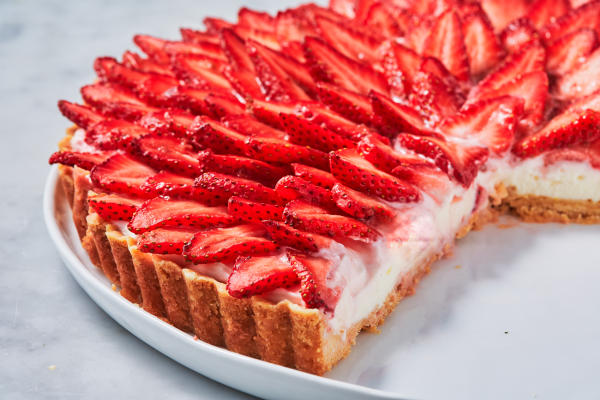 INGREDIENTS
(For the crust)
1 and ¼ cups of all purpose flour. (Some extra to handle the dough)
½ cup unsalted butter cut into small pieces
¼ teaspoon salt
1/3 cup sugar
(For the filling)
8 ounces of cream cheese
1-2 pounds of strawberries, cleaned and halved
¼ cup sugar
¼ cup seedless red currant jelly
DIRECTIONS
Preheat the oven to 350 degrees. Then blend the flour, 1/3 cup sugar, salt, and butter for about a minute until the mixture forms moist crumbs. Next transfer the mixture to a 9-inch round tart pan.
Press the dough (Mixture) evenly into the pan up-side with floured fingers. Then freeze the crust for 10-15 minutes
Next using a fork, prick the crust all over and bake until golden brown for around 25-30 minutes. (If the crust puffs up gently press with a spoon during the baking process)
Next for the filling, in a medium bowl, add and mix the ¼ cup sugar and the cream cheese until smooth and spread the mixture evenly in the baked crust.
Arrange strawberry halves starting from the outside edge in tight circles on the cream cheese mixture.
Bring a small saucepan to a medium low heat and heat the jelly until its liquified and then brush the strawberries with it and leave for 20 minutes and chill it for about at least an hour and serve!