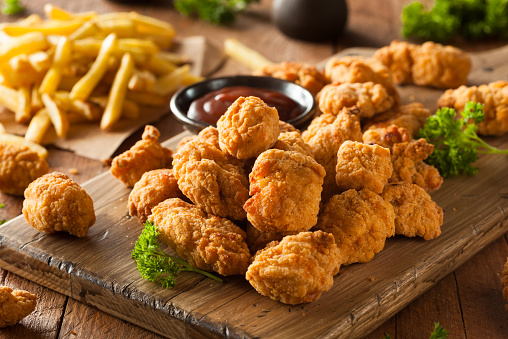 INGREDIENTS
3 cups flour
2 teaspoons garlic powder
½ teaspoon salt
¼ teaspoon ground black pepper
2 eggs
2 tablespoons lemon juice
oil for frying
3 skinless, boneless Crysbro chicken breasts, cubed
DIRECTIONS
Mix flour, garlic powder, salt, and black pepper together in a bowl. Beat eggs and lemon juice together in a separate bowl.
Heat 1 1/2 to 2 inches of oil in a large pot over medium heat.
Dip the chicken pieces into the flour mixture, then the egg mixture, and again into the flour mixture.
Test the oil to make sure it is hot enough: a small amount of flour dropped in should sizzle. Place 10 pieces of chicken into the hot oil; cook until golden brown, for about 8 minutes. Remove from the oil and drain on a paper towel lined plate and season with salt. Repeat with the remaining chicken.