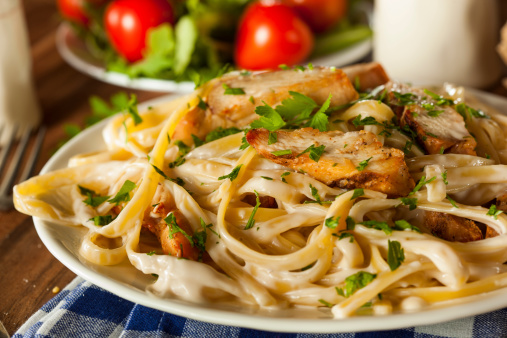 INGREDIENTS
2 tbsp extra-virgin olive oil
2 boneless, skinless Crysbro chicken breasts
Salt
Freshly ground black pepper
1 1/2 cups whole milk
1 1/2 cups low-sodium chicken broth
2 cloves of garlic, minced
8 oz. fetuccini
1/2 cup heavy cream
1 cup freshly grated Parmesan
Freshly chopped parsley, for garnishing
DIRECTIONS
In a large skillet over medium-high heat, heat oil. Add chicken and season with salt and pepper. Cook until golden and cooked through, 8 minutes per side. Let it rest for 10 minutes, then slice. 
Add milk, broth, and garlic to the skillet. Season with salt and pepper and bring to a simmer. Add fettuccine, stirring frequently for about 3 minutes. Let cook until al dente, for 8 minutes more. 
Stir in heavy cream and Parmesan until combined. Simmer until sauce thickens. 
Remove from heat and stir in sliced chicken. Garnish with parsley.