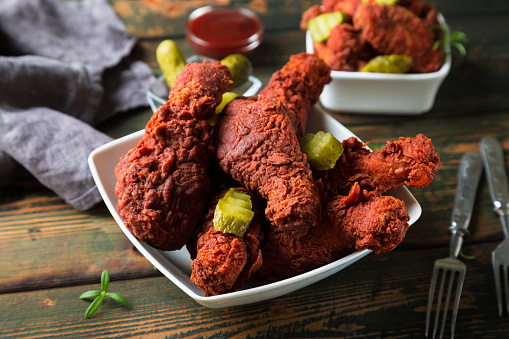 When people think of Nashville, images of live music, the Grand Ole Opry, and free-flowing whiskey all come to mind. But Music City is also the birthplace of one of the country's best fried chicken dishes — Nashville Hot Chicken. 
The owner of Prince's Hot Chicken, André Prince mentioned that her great uncle, Thorton Prince, came home late one night and his lover wasn't pleased. She expressed her anger by cooking chicken, covering it in some particularly fiery seasoning to match her fury. But Thorton ended up loving the dish so much that he decided to open a store and sell it to the masses. André also mentioned that more women order the "hot" variety of the dish at the restaurant than men.
While the exact recipes for hot chicken are closely guarded, the main ingredient in most seasoning is cayenne pepper with habanero and cumin, also playing important roles. Most hot chicken is served on a piece of white bread and comes with a pickle and sides such as coleslaw, mac and cheese, and other heat-absorbing dishes.