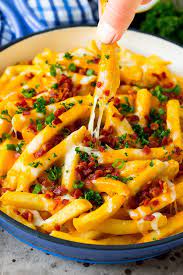 INGREDIENTS
– 4 large potatoes (Russet or your preferred variety)
– 1 cup shredded cheddar cheese
– 4-6 strips of bacon, cooked and crumbled
– 1/4 cup chopped scallions or green onions
– 1/4 cup sour cream
– 1-2 jalapeño peppers, sliced (optional, for heat)
– Salt and pepper to taste
– Cooking oil (for frying)
– Additional toppings of your choice (guacamole, salsa, chili, etc.)
DIRECTIONS
1. Prepare the Fries:
– Wash and peel the potatoes (if desired).
– Cut the potatoes into thick fries or wedges, ensuring they are of uniform size for even cooking.
– Rinse the cut potatoes in cold water to remove excess starch.
– Pat the fries dry with a paper towel.
2. Fry the Fries:
– Heat a deep fryer or a large pot with enough oil to submerge the fries to 350-375°F (175-190°C).
– Carefully add the fries in batches to the hot oil and fry until they are golden brown and crispy, which usually takes about 4-5 minutes per batch.
– Remove the fries with a slotted spoon or tongs and place them on a plate lined with paper towels to drain any excess oil. Season them with salt and pepper immediately.
3. Assemble the Loaded Fries:
– Spread the freshly fried fries on a serving platter or an oven-safe dish.
– Sprinkle the shredded cheddar cheese over the hot fries so that it begins to melt.
– Add the crumbled bacon on top of the cheese.
– If you like some heat, scatter sliced jalapeños over the fries.
– Place the loaded fries in a preheated oven at 350°F (175°C) for a few minutes, just until the cheese is fully melted and bubbly.
4. Final Toppings:
– Remove the loaded fries from the oven.
– Dollop sour cream over the cheesy, bacon-covered fries.
– Sprinkle chopped scallions or green onions on top.
5. Serve:
– Serve your loaded fries hot and fresh.
– You can also offer additional toppings like guacamole, salsa, or chili on the side for customization.