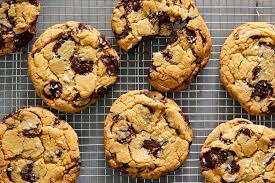 The chocolate chip cookie was invented by Ruth Graves Wakefield in the 1930s. She owned the Toll House Inn in Whitman, Massachusetts. She intentionally created the cookie by breaking up a chocolate bar and mixing it into the cookie dough, expecting the chocolate to melt and create an all-chocolate cookie. Instead, the chocolate remained in small pieces, giving birth to the chocolate chip cookie.

Ruth Wakefield's original recipe was called the "Toll House Chocolate Crunch Cookie." The recipe became widely popular after she published it in a Boston newspaper. In exchange for using her recipe, Nestlé provided her with a lifetime supply of chocolate.

The classic chocolate chip cookie is often made with semi-sweet chocolate chips, but variations can include dark chocolate chips, white chocolate chips, or a combination of these. Nuts, such as walnuts or pecans, are also commonly added.

May 15th is celebrated as National Chocolate Chip Cookie Day in the United States.

The chocolate chip cookie is considered one of the most iconic and beloved baked goods worldwide. Its combination of a chewy and crispy texture with the rich sweetness of chocolate has made it a timeless favorite.

The invention of the chocolate chip cookie played a significant role in the rise of homemade cookies and eventually the mass production of packaged cookies.

In 1995, the first-ever chocolate chip cookie was baked in space aboard the Space Shuttle Atlantis. It was part of an experiment to study how microgravity affects baking.

The world's largest chocolate chip cookie weighed over 40,000 pounds and had a diameter of 101 feet. It was baked in 2003 in Flat Rock, North Carolina.

Did you know these facts before?