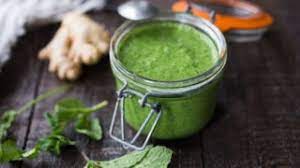 INGREDIENTS
2 cups fresh mint leaves, washed and packed
1 cup fresh cilantro (coriander) leaves, washed and packed
2-3 green chilies (adjust to taste)
1 small onion, roughly chopped (optional)
2-3 cloves of garlic
1-inch piece of ginger, peeled
1 tablespoon lemon juice
1 teaspoon cumin seeds
Salt to taste
Water, as needed
DIRECTIONS
1. Clean the mint and cilantro leaves thoroughly, removing any stems. Peel the garlic cloves and ginger.
2. In a blender or food processor, combine the mint leaves, cilantro leaves, green chilies, onion (if using), garlic, ginger, lemon juice, cumin seeds, and a pinch of salt.
3. Start blending on a low speed, gradually increasing the speed to create a smooth paste. If the mixture is too thick, you can add a little water to aid in blending. Be cautious not to make the chutney too watery.
4. Once blended, taste the chutney and adjust the seasoning by adding more salt or lemon juice if needed. You can also add more green chilies if you prefer a spicier chutney.
5. Transfer the mint chutney to a clean, airtight container. You can store it in the refrigerator for a few days. To retain the vibrant green color, you can drizzle a little oil on the surface of the chutney before sealing the container.
6. Mint chutney can be served alongside various dishes. It's commonly used as a dip for appetizers like samosas, pakoras, or kebabs. It can also be spread on sandwiches or used as a marinade for grilling meats.