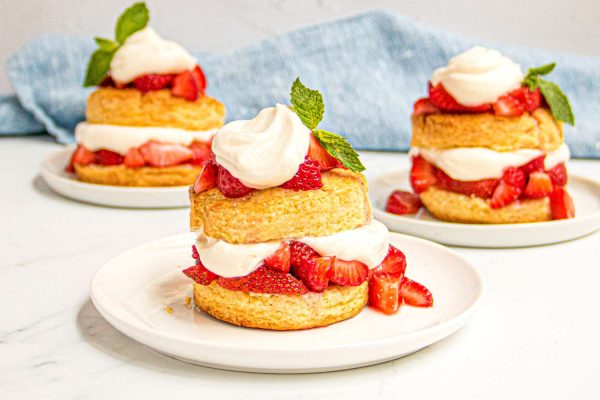 INGREDIENTS
For the Shortcakes:
– 2 cups all-purpose flour
– 1/4 cup granulated sugar
– 1 tablespoon baking powder
– 1/2 teaspoon salt
– 1/2 cup cold unsalted butter, cut into small pieces
– 2/3 cup heavy cream
– 1 teaspoon vanilla extract
For the Strawberry Filling:
– 1 pound fresh strawberries, hulled and sliced
– 1/4 cup granulated sugar (adjust to taste)
– 1 teaspoon lemon juice (optional)
For the Whipped Cream:
– 1 cup heavy whipping cream
– 2 tablespoons powdered sugar
– 1 teaspoon vanilla extract
DIRECTIONS
(Preparing the shortcake)
1. Preheat your oven to 425°F (220°C).
2. In a large bowl, whisk together the flour, sugar, baking powder, and salt.
3. Add the cold butter pieces to the dry mixture. Use a pastry cutter or your fingertips to work the butter into the dry ingredients until the mixture resembles coarse crumbs.
4. Pour in the heavy cream and vanilla extract. Mix gently until the dough comes together. Be careful not to overmix; the dough should be just combined.
5. Turn the dough out onto a floured surface and gently pat it to about 1-inch thickness. Use a round cookie cutter or a glass to cut out shortcakes. Place the rounds onto a baking sheet lined with parchment paper.
6. Bake the shortcakes in the preheated oven for about 12-15 minutes or until they are golden brown. Once baked, let them cool slightly on a wire rack.
(Preparing the Strawberry Filling)
1. In a bowl, combine the sliced strawberries, granulated sugar, and lemon juice (if using). Toss gently to coat the strawberries in the sugar. Allow the mixture to sit for about 15-20 minutes, allowing the strawberries to release their juices and become syrupy.
(Whipping the Cream)
1. In a mixing bowl, whip the heavy whipping cream, powdered sugar, and vanilla extract until soft peaks form. Be careful not to overwhip, as the cream can become stiff and grainy.
(Assembling the shortcakes)
1. Slice each baked and cooled shortcake in half horizontally.
2. Spoon a generous amount of the strawberry mixture onto the bottom half of each shortcake.
3. Dollop a generous amount of whipped cream on top of the strawberries.
4. Place the top half of the shortcake over the whipped cream.
5. Optional: You can garnish the top with an extra dollop of whipped cream and a fresh strawberry.
6. Serve the strawberry shortcakes immediately and enjoy!