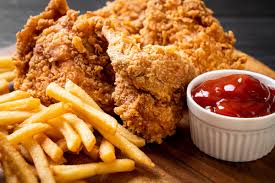 INGREDIENTS
For the Chicken:
– Chicken pieces (such as drumsticks, wings, or breast)
– Salt and pepper to taste
– 1 cup buttermilk (optional, for marinating)
– 1 cup all-purpose flour
– 1 teaspoon paprika
– 1 teaspoon garlic powder
– 1 teaspoon onion powder
– Oil for frying (vegetable or canola oil)
For the Chips (French Fries):
– Potatoes
– Salt to taste
– Oil for frying
DIRECTIONS
Preparing the Chicken:
1. If you're marinating the chicken, place the chicken pieces in a bowl, season with salt and pepper, and pour the buttermilk over them. Allow the chicken to marinate in the refrigerator for at least an hour, or ideally overnight. Marinating helps tenderize the chicken and adds flavor.
2. In a separate bowl, mix the flour, paprika, garlic powder, onion powder, salt, and pepper.
– Remove the chicken pieces from the buttermilk (if marinating) and let excess buttermilk drip off.
– Dip each piece of chicken into the flour mixture, ensuring it's coated evenly. Press the flour onto the chicken to make sure it sticks well.
3. Heat a deep pot or frying pan with enough oil to submerge the chicken pieces. The oil should reach a temperature of around 350-375°F (175-190°C).
– Carefully place the breaded chicken pieces into the hot oil, a few at a time. Don't overcrowd the pan, as this can lower the oil temperature and make the chicken greasy. Fry the chicken until it's golden brown and cooked through. The internal temperature of the chicken should reach 165°F (75°C). This usually takes about 12-15 minutes for larger pieces like breasts or thighs and about 8-10 minutes for smaller pieces like wings.
4. Once the chicken is cooked, use a slotted spoon or tongs to remove it from the oil. Place the fried chicken on a plate lined with paper towels to drain any excess oil.
Preparing the Chips (French Fries):
1. Peel the potatoes if desired, or leave the skin on for a more rustic texture. Cut the potatoes into thin strips, about 1/4 to 1/2 inch thick.
2. Rinse the potato strips in cold water to remove excess starch. Pat them dry with paper towels or a clean kitchen towel.
3. Heat another pot or pan with oil for frying. The oil should also be around 350-375°F (175-190°C).
– Carefully add the potato strips to the hot oil, a handful at a time. Fry them until they're golden brown and crispy. This usually takes about 3-4 minutes per batch.
4. Remove the fries from the oil and place them on a plate lined with paper towels to drain excess oil. While they're still hot, sprinkle them with salt to taste.
Serve the Chicken and Chips!