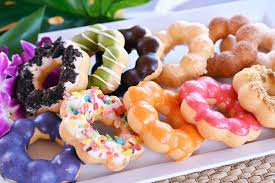 INGREDIENTS
For the donuts:
– 1 cup mochiko (sweet rice flour)
– 1/4 cup granulated sugar
– 1 teaspoon baking powder
– 1/4 teaspoon salt
– 1/3 cup milk (dairy or plant-based)
– 1 teaspoon vanilla extract
– 1 large egg
– 2 tablespoons melted butter or oil
For frying:
– Vegetable oil for frying
For coating:
– Powdered sugar, matcha powder, cocoa powder, or other desired toppings
DIRECTIONS
1.In a mixing bowl, combine mochiko, granulated sugar, baking powder, and salt.
2.In another bowl, whisk together the milk, vanilla extract, egg, and melted butter or oil.
3. Gradually add the wet mixture to the dry mixture and stir until well combined. The batter will be thick and sticky, which is characteristic of mochi-based batters.
4. Heat vegetable oil in a deep pot or fryer to about 350°F (175°C).
5.Using two spoons or your hands, take small portions of the dough and shape them into donut shapes. You can also use a piping bag to pipe the dough into donut molds.
6. Carefully place the shaped donuts into the hot oil, a few at a time, without overcrowding the pot. Fry for about 3-4 minutes, turning them occasionally, until they are golden brown.
7. Once cooked, use a slotted spoon to remove the donuts from the oil and place them on a paper towel-lined plate to drain any excess oil.
8. While the donuts are still warm, roll them in powdered sugar, matcha powder, cocoa powder, or any other desired coatings.
9. Mochi donuts are best enjoyed fresh. Serve them warm and enjoy their chewy texture and delightful flavors.
10.Feel free to get creative with flavors by adding extracts, zest, or even fillings like chocolate, fruit jams, or custard.