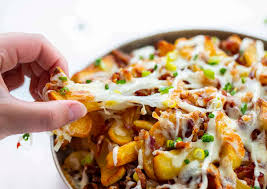 INGREDIENTS
For the fries:
– 4 large russet potatoes
– 2 tablespoons vegetable oil
– 1 teaspoon salt
– 1/2 teaspoon garlic powder
– 1/2 teaspoon paprika
For the toppings:
– 1 cup shredded cheddar cheese (or your favorite cheese)
– 1/4 cup sliced green onions
– 1/4 cup diced tomatoes
– 1/4 cup cooked and crumbled bacon
– 1/4 cup sour cream
– 1/4 cup mayonnaise
– 1 tablespoon chopped fresh parsley (optional)
– Salt and pepper, to taste
DIRECTIONS
1. Prepare the Fries: Preheat your oven to 425°F (220°C). Wash the potatoes thoroughly and cut them into evenly sized strips or wedges to your preferred thickness.
2. Soak the Fries (Optional): For extra crispy fries, you can soak the cut potatoes in cold water for about 30 minutes to remove excess starch. Then, pat them dry with a clean towel.
3. Season the Fries: In a large bowl, toss the potato strips with vegetable oil, salt, garlic powder, and paprika until evenly coated.
4. Bake the Fries: Spread the seasoned fries in a single layer on a baking sheet lined with parchment paper. Avoid overcrowding the fries. Bake in the preheated oven for about 20-25 minutes or until they are golden and crispy. Flip the fries halfway through baking for even cooking.
5. Prepare the Sauce: In a small bowl, mix together the sour cream and mayonnaise to create the creamy sauce. Season with salt and pepper to taste. Add any additional seasonings or spices you prefer.
6. Assemble the Loaded Fries: Once the fries are out of the oven, transfer them to a serving dish or a large platter.
7. Add the Toppings: Sprinkle the shredded cheddar cheese over the hot fries, allowing it to melt slightly from the heat.
8. Add the diced tomatoes, sliced green onions, and crumbled bacon on top of the melted cheese.
9. Drizzle with Sauce: Use a spoon or a squeeze bottle to drizzle the sour cream and mayonnaise sauce over the loaded fries.
10. Garnish: If desired, sprinkle chopped fresh parsley on top for added freshness and presentation.
11. Serve and Enjoy: Your loaded fries are now ready to be enjoyed! Serve them immediately while they are still hot and gooey.