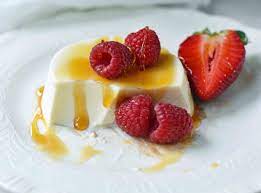 INGREDIENTS

– 2 cups plain yogurt (Greek yogurt works well too)
– 1/4 cup honey or maple syrup (adjust to your preferred level of sweetness)
– 1 teaspoon vanilla extract
– 1 tablespoon gelatin powder
– 2 tablespoons cold water
– Fresh fruits or berries (optional, for topping)
DIRECTIONS
1. In a medium-sized bowl, whisk together the yogurt, honey (or maple syrup), and vanilla extract until well combined. Taste the mixture and adjust sweetness according to your preference.
2. In a separate small bowl, sprinkle the gelatin powder over the cold water and let it sit for a minute or two until it becomes soft and spongy.
3. Once the gelatin has absorbed the water, microwave it for about 10-15 seconds or until it fully dissolves. Alternatively, you can dissolve the gelatin in a small saucepan over low heat.
4. Add the dissolved gelatin to the yogurt mixture and whisk thoroughly to ensure it's evenly distributed.
5. Pour the yogurt pudding mixture into individual serving cups or a large glass dish.
6. Cover the cups or dish with plastic wrap or lids and refrigerate for at least 2-3 hours, or until the pudding sets and becomes firm.
7. Once the pudding has set, you can add fresh fruits or berries on top for an extra burst of flavor and texture.
8. Serve and enjoy your homemade yogurt pudding!