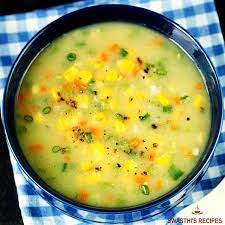 INGREDIENTS
50 g of corn
1 teaspoon of garlic mince
1/4 cup of carrots, chopped
2 tablespoons of butter 
1 teaspoon vinegar
1 teaspoon of ginger, minced
5 tablespoons of spring onions, chopped
1 teaspoon of cornmeal
1/4 teaspoon black pepper
Salt to taste
DIRECTIONS
Butter is warmed in a pan. Ginger and garlic should be added and sauteed for one minute. Add 3 tablespoons of finely chopped spring onions now, and cook for an additional 2 minutes. Add 1/4 cup of carrot and corn last. After adding salt, sauté the vegetables for 3–4 minutes.

2 tbsp water and 1/4 cup maize should be added to a blender. Mix thoroughly to create a smooth, thick paste. Sauté this paste in the pan for three to four minutes.

Add 3 cups of water right away, then cover with a lid. Cook the soup for 10 to 12 minutes, or until it has reduced to just 2.5 cups. To make a slurry, combine 1 tbsp cornflour with 2 tbsp water. Mix the soup well after adding this slurry. Cook for a further 5 to 6 minutes to achieve the desired soup consistency.

Add the vinegar, leftover spring onions, black pepper powder, and salt to taste last.

Serve the soup hot after ladling it into dishes.