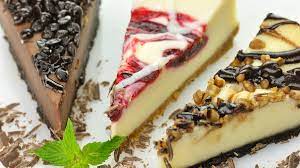 Cheesecake is loved by you, me and almost everyone in the world but most of us don't know the fun facts surrounding cheesecake. Here are some of those facts.

Savillum was a type of cheesecake popular among the ancient Romans. In place of sugar, honey was used as the sweetener, and an old recipe calls for poppy seeds to be sprinkled on top. If you want to sample a dish that truly captures the flavor of ancient Rome, there are still recipes for it available today.

Cheesecake is quite well-liked. In addition to the ancient world, it was also popular in medieval Italy, where it was made using ricotta, as opposed to quark in Germany. Even in 18th-century Colonial America, Philadelphia had its own "Cheesecake House" tavern.

If you've ever tried "New York Cheesecake," you may have noticed that it differs slightly from other cheesecakes. This is because Americans cook cheesecake in a unique way. First, unlike European cheesecake, which is cooled in the refrigerator, American cheesecake is baked in the oven. Additionally, it is considerably more custardy than a cheese cake made in the European style, which is much creamier.

The best cuisines in the world, including American cheesecake, were created by chance. A cheesemaker in the US apparently made cream cheese by mistake while attempting to replicate a French cheese.