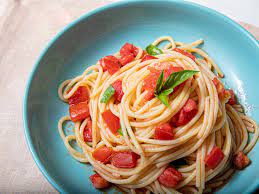 INGREDIENTS
T1 pound of spaghetti
Extra-virgin olive oil, 2 tablespoons
4 medium tomatoes chopped
Garlic minced (3 cloves), 
1 tiny yellow onion, chopped
Salt to taste
Black pepper freshly ground
Crushed red pepper flakes to taste
2 tbsp. of basil, thinly sliced, plus additional for serving
Fresh Parmesan gratings for serving
DIRECTIONS
Follow the instructions on the pasta package and cook it until al dente in a big pot of salted boiling water. Before draining the pasta, save 1/2 cup of the water.

Heat oil in a second big saucepan over medium heat. Add the onion and simmer for about 6 minutes, or until tender. One minute later, add the garlic and heat it until fragrant.

Tomatoes should be added and cooked until juices are released. Add some red pepper flakes, salt, and pepper for seasoning. Simmer for 15 minutes on low heat. Basil is mixed in.

1/4 cup pasta water and the spaghetti are added. Combine by tossing. If necessary, add more pasta water to the sauce to thin it out.

Serve with more basil and Parmesan on top.