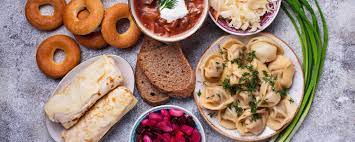 Old Russian cuisine, which flourished from the ninth to the sixteenth century; Old Moscow cuisine, which flourished in the seventeenth and eighteenth centuries; and, finally, Petersburg cuisine, which flourished from the late eighteenth century to the 1860s.

The primary dietary groups throughout the Old Russian era were bread, cereals, and other starchy foods. Women made pies with a variety of contents, such as berries or mushrooms. A loaf of bread and salt were always available during parties. Oats and buckwheat were examples of kasha, which were symbolic of the household's health.

Many Russians prepared gingerbread, which is still a well-liked Russian treat, using honey and  berries. Asian civilizations are the source of inspiration for many modern Russian cuisines like pelmeni. According to social status, cuisine was divided in the seventeenth century.

The wealthy ate meat and fine foods like caviar, while the underprivileged ate the most basic foods. Due to the annexation of new nations, more food was produced during this century.

During the reign of Peter and Catherine the Great, dishes included minced beef and Russian cuisine also assimilated elements of other European cuisines. Many French, German, Dutch, and Italian dishes were integrated into Russian cuisine during the previous era (Petersburg cuisine), including lamb and pork.

Did you know these facts before?