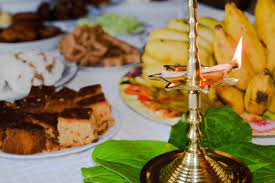 Both the Tamil Hindus and the Sinhala Buddhists of Sri Lanka now consider the Sinhala and Tamil New Year, or Avurudu as it is known in Sinhala, to be a significant national holiday. It is distinctive since it is not observed as a national celebration in any other nation.

There is greenery all around, including new leaves on the trees, blooming flowers, a plenty of fruits and vegetables, and bird sounds filling the air. The smell of sweetmeat, the sound of raban, and the scream of the koha all signify that the nation as a whole is prepared to celebrate this national holiday.

The Sinhala calendar states that Sri Lankans begin commemorating "Aluth Avurudu" (also known as "Puththandu") in the month of Bak, when the sun transitions from the Meena Rashiya to the Mesha Rashiya, during that time. The Sanskrit word "bhagya," which means "fortunate," is where the name "Bak" originates. The Gregorian calendar, which is widely used in Sri Lanka and across the rest of the globe, equates the month of Bak to April.

The Aluth Avurudda represents societal customs, particularly in the farming community, and the harvest being reaped. Farmers celebrate the event by giving thanks after the Maha harvest. And these traditions and practices reflect the values and ideas of these farmers' community members.

The Aluth Avurudda's rituals start with bathing on the last day of the previous year and seeing the moon that same night. The times for carrying out the various ceremonies are announced by the pealing of the bell and the beating of the drums (hewisi) in the village temple.

Every housewife is expected to give her old house a fresh coat of paint prior to Avurudu. In villages, if the floor is not cemented, fresh cow dung mixed with dirt is applied. At least three days before the new year, sweetmeats like kevum, kokis, atirasa, aggala, aluva, and asmi are prepared

Equally significant is the annual bathing custom. A herbal bath helps to physically purify. An herbal bath that has been anointed with mustard oil or gingelly oil has a calming effect on the body. Traditionally, an elderly person in good health performs the anointing.

Did you know these facts before?