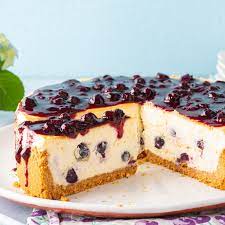 A graham cracker, cookie, or pastry crust is used to encase cheesecake, a decadent dessert cake prepared with cream and soft cheese. It frequently has a fruit puree or compote on top.

National Blueberry Cheesecake Day is observed nationwide on May 26 each year. Legend has it that blueberry cheesecakes were provided to the competitors at the Olympic Games in Greece. It is a traditional dish that has endured through the ages without losing favor.

The cheesecakes that people enjoy today are a more recent creation, even though cheesecakes date back to ancient Greece. Although there are many interesting flavors of cheesecake that have been developed, the traditional blueberry cheesecake is celebrated on May 26th.

As cheesecakes traveled to other nations, more ingredients were added, and new variations started to appear. Ricotta is preferred in Italy over cream cheese, which is the main component in cheesecakes in America. On the other hand, quark, a unique variety of curd cheese, is used in Germany and Poland.

During time, as cheesecakes became more regionalized, bakers came up with fresher improvements. The addition of fruit to cheesecakes was one of the most well-liked innovations, and blueberries may have been the greatest of all of them.

Did you know these facts before?