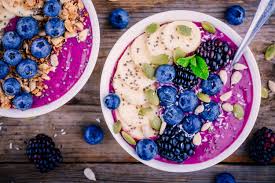 A smoothie bowl is essentially a smoothie that is served in a bowl and has a considerably thicker consistency than a typical smoothie.

They are frequently piled high with the toppings of your choice, which can range from something soft like a banana to something crunchy like granola, almonds or seeds, and more, making it an interesting component of the bowl. Smoothie bowls are a quick, simple, and quick to make breakfast option that is also a healthier option for the morning. They may also be made colorful and flavorful.

The primary components of a smoothie bowl include frozen or fresh seasonal fruits and vegetables, as well as various more nutrient-dense toppings such fruits, nuts, seeds, coconut shavings, granola, and others.

Smoothie bowls are pureed, making them simple to eat and simple to digest. They provide a wealth of nutrients, including fiber, protein, carbs, and good fats, all of which may be found in fruits, vegetables, dairy products made from cow's milk or plant sources, nuts, and seeds.

Smoothie bowls provide for better digestion, increased satiety, and improved nutrient absorption because they are high in fiber and natural sugars. Also, it enhances bowel motions, reduces infections, promotes immunity, keeps the heart healthy, and generally enhances quality of life.

Smoothie bowls are not only visually appealing and colorful, but they also taste great with each bite thanks to a burst of flavor and the deliciousness of crunchy toppings. Adding the unpopular fruits and vegetables to your smoothies is a simple hack you may do at home.

Did you know these mesmerizing facts before?