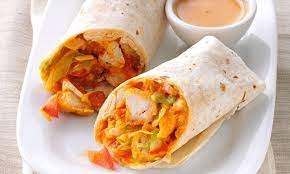 INGREDIENTS
4-5 rotis
3 tablespoons of white vinegar
13 teaspoon of baking powder
50 ml of mayonnaise
Chicken breast, 300 grams
2 teaspoons garlic powder
Chicken powder, 1 tablespoon
Ice berg as necessary
2-3 tablespoons mustard paste
1 tablespoon black pepper, ground
A half-cup of plain flour
1 cup cornmeal
Rice flour, one cup
2-3 eggs
White pepper powder, 1 tablespoon
1 teaspoon red pepper flakes
Salt as desired
DIRECTIONS
The boneless chicken breast should be divided in half, with each half being cut into three layers.

Red chili powder, garlic powder, vinegar, and mustard paste should be added to a bowl of chicken before it is thoroughly mixed and set away.

Put ordinary flour, rice flour, corn flour, white pepper powder, crushed black pepper, garlic powder, salt, chicken powder, and baking powder in an airtight container and stir well.

Eggs are beaten in a bowl. Take a piece of chicken and coat it in the dry ingredients first, followed by the egg, the dry ingredients, and then the eggs once more. On a low burner, deep fried until golden brown.

Spread the rotis with the mixture of mayonnaise and mustard paste.

The chicken pieces should now be placed on it, followed by an iceberg and a tight roll.

Included with some vegetables.

Your Zinger Wraps are ready!