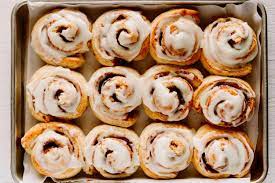 The cinnamon-sugar mixture inside a cinnamon roll is cooked into a delicious dough. Their distinctive shape is the result of rolling a dough sheet containing a sweetened cinnamon filling. They are made using a rich dough leavened with yeast.

Since ancient times, sweet rolls have been made. Yet, this particular sweet dish was developed as a result of the introduction of cinnamon spice to Europe. It is believed that Sweden is where the cinnamon rolls as we know them today first appeared. They are known as kanelbulle there, and October 4th is a national holiday on which they are observed.

The FDA defines buns and rolls as including cinnamon rolls. The FDA deems the ingredients used to make cinnamon rolls as GRAS. Due to potential liver health effects, coumarin, a chemical present in cinnamon, has a maximum amount of addition in baked goods in the EU of 50 mg/kg.

Instead of baking cinnamon rolls separately, the Swedish Butterkaka and Finnish bostonkakku ("Boston cake") bake them together in a round cake pan to create a huge, round cake.

American cinnamon rolls are frequently covered in icing, which is typically made from confectioners' sugar. They are also occasionally fried, then drizzled with glaze and served as a type of elevated doughnut. There are also regional combinations: cinnamon buns and chili are frequently consumed together in the American Midwest, particularly in Nebraska and Kansas.

Did you know these facts about Cinnamon Rolls?