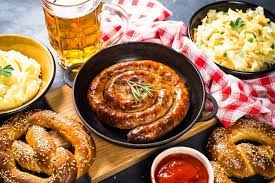 Bratwurst sausages, beer gardens, and Black Forest gâteau are all native to Germany. German cuisine and drink have a long history, but there may be some interesting facts you've never heard about.

Although you might believe that pretzels are an American innovation, they were really created in Europe and are still widely consumed in Germany. Although historians aren't entirely certain of the origins of pretzels, it's generally accepted that European monks invented them.

Pretzel was first brought to North America by immigrants from southern Germany and Swiss-Germany in the late 18th century, and it quickly gained popularity as a popular American snack dish.

You may be excused for thinking that the Black Forest, which inspired the Black Forest gâteau, is a real location. Yet, there are two possible names for the chocolate, cherry, and cream dish.

The first is that the dessert originally consisted of a cherry-based alcoholic beverage called kirsh, cream, and cherries, to which the chocolate cake was later added. Schwarzwälder Kirschtorte is the German name for "Black Forest gateau," where "Schwarzwälder" refers to the Black Forest.

Another popular theory holds that the cake's name was motivated by a traditional outfit worn by residents of the Black Forest region. It had a Bollenhut on top, a cap with flamboyant red pom-poms.

Although the renowned German beer festival is named after the month of October, the most of the celebrations don't occur in that month. Typically, the festival begins in mid-September and ends in early October.

Oktoberfest received its name because it used to begin in October, but as it grew longer, it was decided to move it to September when the weather was warmer and the days were longer.

Have you ever questioned why there isn't any real ham in a hamburger? That's because Hamburg served as the inspiration for its name. And it's not the only dish with a place name, either. Frankfurter hot dogs and Battenberg cake are products of the same town, Battenberg.

Even while a cooked breakfast with sausages or bacon isn't off the table in Ireland, it would be odd to see someone eating a salami bun for breakfast. But, some people in Germany actually do that.

Did you know these facts before?