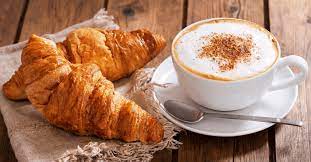 The name of the dish in English gives you a good idea of what to expect for your morning meal. It all revolves around breaking a fast after over 12 hours without food. That a full English breakfast consists of a dish overflowing with proteins and carbohydrates is not surprising.

The French breakfast's secret is revealed in its name, petit déjeuner, which translates to "small lunch." The French, who haven't eaten since the previous night, aren't fattening up like the English are. They are eating a small snack to hold them over until noon, when they will eat le déjeuner, the most important meal of the day. So, breakfast should be small, straightforward, and light.

French breakfast can be tiny in size, but it comes huge in taste mainly because to its key ingredient, la baguette. France prides itself on making the best bread in the world and a fresh, crisp French stick still warm from the oven is certainly hard to top. Bread, fresh or toasted if it's yesterday's bread, takes centre stage on the breakfast table.

Croissants do of course make an appearance, although French households normally reserve this pleasure for weekends. The same holds true for viennoiseries, which include pastries like pain au chocolat and pain au raisins. Briochettes, a smaller version of the brioche, are also well-liked.
You shouldn't anticipate finding any savory options on a French breakfast menu. Leave out the meat, eggs, and cold cuts. Cheese and avocado are noticeably lacking as well. The entire petit déjeuner is focused on a major sugar fix, from the pastries to the bread toppings.

Of course, coffee is a staple at the French morning table. If it's au lait, anticipate receiving it in a sizable bowl (not mug). Ideal for dipping your croissant or tartine (jam lashings included). Nonetheless, the majority of French people want their espresso as black as it can be.

Did you know these facts before?