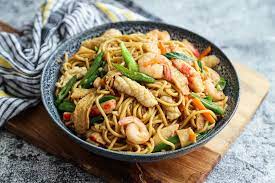 INGREDIENTS
4 tbsp. olive oil
2 red peppers, seeds removed, thinly sliced
4 leeks, sliced thin
2 large onions peeled and sliced into broad wedges
300 g of halved cherry tomatoes
4 peeled and thinly sliced garlic cloves
A few coriander sprigs
Balsamic vinegar, 4 teaspoons
Salt
Ground pepper
300 g dry Rice or egg noodles
400 g of frozen shrimp and a variety of fish
DIRECTIONS
According to the directions on the package, cook the noodles in boiling water. Drain, give them a thorough cold water rinse, and then set away.

Heat 1 tablespoon of olive oil in a big frying pan or wok. Add the peppers, leeks, and onions. Stir-fry for a few minutes until lightly browned. Cook for a further 2 minutes after adding the cherry tomatoes. Take the mixture out of the pan and place somewhere warm.

In the same pan over high heat, add the remaining oil, the garlic, and the mixture of seafood. 7-8 minutes of cooking time if the seafood is frozen (or 3-4 minutes if it is defrosted or fresh).

Add the drained noodles, the reserved vegetables, the coriander, and the balsamic vinegar. Stir-fry until everything is hot and flavorful. If required, add more balsamic vinegar.

Your Stir fried Seafood Noodles is ready!!