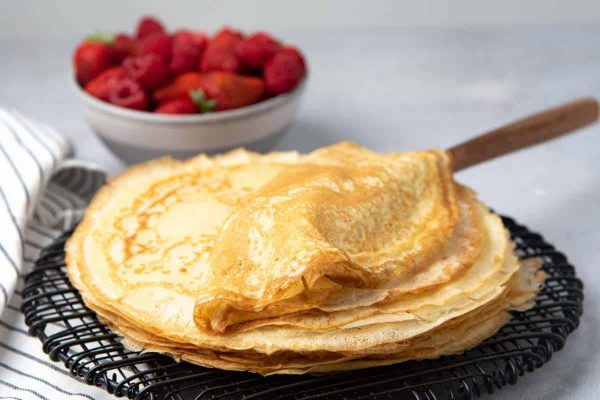 Crepes resembles an extremely thin pancake. Typically, there are two types of crepes: savory galettes (crêpes salées) and sweet crepes (crêpes sucrées). Many different fillings, including cheese, fruit, vegetables, meats, and spreads, are frequently served with them. Additionally, crepes can be flambéed, as in crepes Suzette.

On February 2, the Christian celebration of Candlemas (La Chandeleur), crêpes are customarily offered in France. French pilgrims traveling to Rome for the Chandeleur were offered Crispus (later spelled Crêpes) in 472 by Pope Gelasius I of Rome. The dish was introduced to France, where it earned the title "The Day of the Crêpes" (Le Jour des Crêpes). Similar to the Groundhog Day celebration in North America, the day is also widely observed as the day that ushers in the arrival of spring, with crêpes' golden hue and circular form symbolizing the sun and the cycle of life.

Cooking a crêpe with a gold coin on top is another variation of the custom. For luck in the upcoming year, some people choose to store their first crepe in a drawer as opposed to consuming it. Another Candlemas custom is eating and sharing crêpes with others in honor of the popes' annual February 2 feeding of the hungry.

Grains other than wheat, such buckwheat, are used to make savory crêpes. In a typical savory crêpe recipe, wheat flour is used but no sugar is added. Because the batter is prepared from buckwheat flour, it is gluten-free and suitable for those with wheat allergies or gluten intolerance. For lunch or dinner, savory crêpe fillings that are frequently used include cheese, ham, and eggs, ratatouille, mushrooms, artichokes (in some areas), and various meat products.